Come Celebrate the New Year with Us!
Thank you to everyone that joined us to celebrate the Year of the Tiger with live performances, games, food trucks, and more! Our annual festival is one of the highlights of the year for Barnard students and families.
About The Event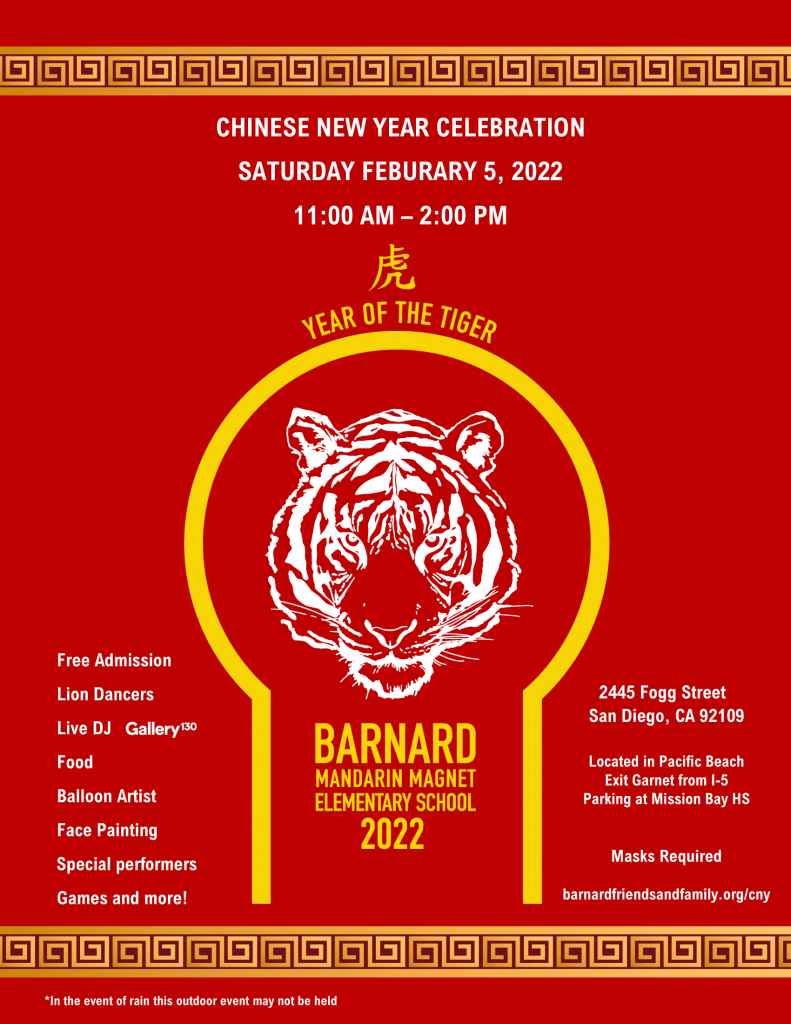 Year of the Tiger Performers
Three Treasures Cultural Arts Society
We started in May 2009 and became a full 501c3 non-profit in May of 2013 Mission: Enriching the lives of youths (and adults) by introducing them to art, music, and cultural programs that build character, self-esteem, and spirit. Three Treasures is based on how a traditional Kung Fu school was run in the old days. Not only was it a place to learn martial arts but was also a health clinic and gave back to its community. It was a symbol of strength and high morality. For centuries, Kung Fu has been one of man's greatest tools for self-development, cultivation, and empowerment. Learning to listen, feel and see internally and externally helps you learn to handle pressure and stay focused. Three Treasures currently provides after-school enrichment programs at Barnard Elementary focused on the three treasures of mind, body, and spirit. Website: https://www.ttcaskf.org/
Samahan Filipino American Performing Arts & Education Center
The Samahan Filipino American Performing Arts is a non-profit performing organization founded in 1974 by the late Dr. Lolita Carter. Its mission is to preserve, promote, and educate about Philippine Dance and music and to give others the opportunity to participate and perform Philippine Dance and music. It continues to offer Philippine dance and music classes, workshops, holding annually the Concert of Philippine Dance and Music and the Philippine Cultural Arts Festival in Balboa Park. They also perform in community and school events as well as private gatherings. More information about classes and performance invitations on their website:
www.samahanphilipinedance.com.
The Chinese Cultural Center (CCC)
The Chinese Cultural Center (CCC) was launched by San Diego State University in August 2019, to support cultural, historical, linguistic, artistic, and political knowledge and awareness of China and the broader Asia Pacific Region. The CCC inspires young people to be global leaders with a force of curiosity, passion, ingenuity, creativity, discovery,
compassion, and learn through the understanding of the Chinese language and culture. Website: education.sdsu.edu/ccc
The Fo Guang Shan Buddhist Order and Hsi Fang Temple
The Fo Guang Shan Buddhist Order and its San Diego branch temple, Hsi Fang Temple focus on:
Education – Classes and lectures in Buddhism and special topics are conducted regularly in Mandarin and English. In addition, summer camp, community projects take place throughout the year.
Culture- Efforts for cultural development include quarterly publications of Buddha's Light Newsletter and other Buddhist periodicals as well as Buddhist studies and events.
Cultivation- On Sundays, Dharma services are held, which include the Diamond Repentance
Service, the chanting of Amitabha Sutra, Universal Gate Sutra, Eight-eight Buddhas' Great Repentance, and Buddha's Birthday Ceremony Service. Meditation sessions are also conducted.
Charity- In addition to a prison propagation program, there is an ongoing effort to help people who are in need of assistance
Frankie Silver
Frankie Silver (born November 9, 1988) is a Mexican-American singer, songwriter, dancer, and actor from Philadelphia, Pennsylvania. At the age of six, Silver began his professional singing career with the Philadelphia Boys Choir. He appeared in staged productions and television commercials for Disney Television before working with music producers Zaire Koalo (Demi Lovato, T.I., B.O.B.), Colin Brittain (5 Seconds of Summer, All Time Low, Steve Aoki), Kato Khandwala (Blondie, Paramore, The Pretty Reckless), Alan Guzman (Britney Spears, Alicia Keys), Bryan Abreau (Keyshia Cole), Matthew Hall (Ashanti. Nicki Minaj, Producer by Wes Boreland of Limp Bizkit, Grammy Award-winning singer/songwriter, Darius Coleman, and Howie Beno (Katy Perry, Nick Jonas) In 2018 he released his debut EP, 'Coming Alive' under his own label, Silver Studios LLC.
Silver suffered a life-changing wrist injury when he severed his ulnar artery, six tendons, and the ulnar nerve, in a building collapse, which ensued uncertainty regarding Silver's ability to dance, play the piano and resume gymnastics. The doctors told him that he would never be able to perform again. Channeling his energy in a new direction, Silver focused on writing music. After reconstructive surgeries and several years of physical therapy, Frankie was finally able to pursue the dream he had always envisioned.
He began putting together his EP "Coming Alive", released in 2018. The befittingly titled album is a true culmination of Frankie's trials and struggles. Through its uplifting club "bangers" and irresistibly catchy beats, the album is a reflection of Frankie's positive energy and embodies that force inside that drives us forward each day. Silver describes his album as an "extension of himself and an example to others that no matter what you may face along the way, you can find the silver lining if you change your mindset and channel your energy into something positive. "This album is a true reflection of my inner spirit. I want to amplify the positive vibes I feel inside myself and heal the world through my music." Website: https://frankiesilvermusic.com/
Sunshine Studio
Sunshine Studio is a Russian heritage school for children. We serve families from any Russian-speaking country or background to not only learn to fluently speak Russian but participate in a wide range of activities: folk dance, art rhythmic gymnastics, ballet classes, art, painting, theater, chess, and math. We also strive to enrich the larger San Diego community as a whole by offering Russian language classes at our school to any child from 4.9 years of age up to 18 years old. Sunshine Studio was founded 8 years ago by Masha Koveskaya, a professional dancer. Since then she has participated in many respected Russian events all over San Diego — Maslenitsa, Kupalle, and Christmas. The aim of Sunshine Studio is to see children develop into happy and strong people and pass it on to the larger community. In addition to our regular lessons, we also offer a wide range of events and activities for parents: birthday parties, celebrations, music lessons, and seminars. Website: https://www.sunshinestudiosd.com/
How Barnard's Chinese New Year Celebration is staying COVID safe:
The entire event will be held outdoors including all performances, games and kiosks.
6ft social distancing will be in effect and monitored.
Well fitting masks covering the nose and mouth are required for all attendees, vendors, organizers and volunteers regardless of vaccination status.
Masks will be available to attendees who need one.
There will be facilities for handwashing or the availability of hand sanitizers for all.
Check-in using a digital QR code is needed in the event that contact tracing is required due to an exposure.
Any attendees, organizers, vendors or volunteers exhibiting any signs of COVID-19 present on the "daily symptom checklist" are to remain at home.