Join your friends in the Barnard Community for Super Science Night 2021!
Grades TK-1: https://zoom.us/j/98159554066?pwd=UlJYajgrejVJR2JFV2NuWk9jOWM2UT09
Meeting ID: 981 5955 4066
Passcode: panda
Grades 2-3: https://zoom.us/j/92948006226?pwd=UVZjUmVsdTNpMU1ManltVkVad1pLUT09
Meeting ID: 929 4800 6226
Passcode: panda
Grade 4-5 : https://zoom.us/j/99920069367?pwd=Szk2enl2Y2tjK2k1NHc2MDdBQ2dtdz09
Meeting ID: 999 2006 9367
Passcode: panda
Please register for this event and reserve your supply bag by clicking here. More information on supply bag pickup will be sent in the coming weeks. Zoom details for Science Night will be provided prior to the event.
Contact David Vaughan if you or your student (5th grade and up) are interested in volunteering for this event.
See you there!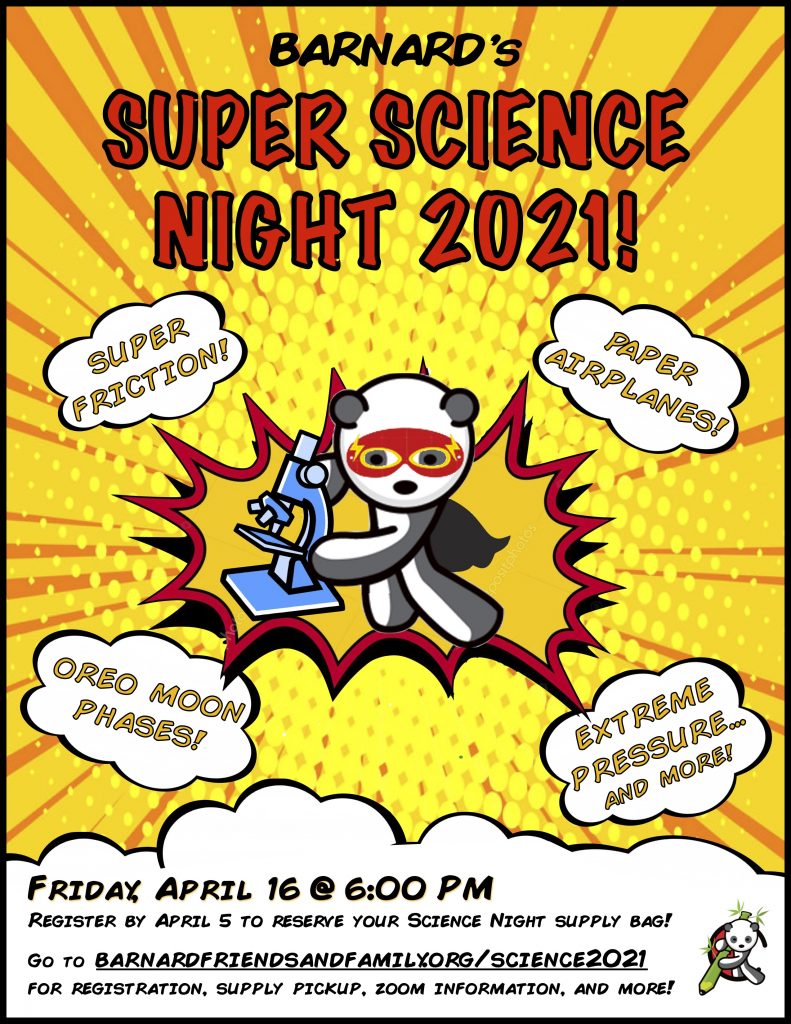 Grades TK-1: https://zoom.us/j/98159554066?pwd=UlJYajgrejVJR2JFV2NuWk9jOWM2UT09
Meeting ID: 981 5955 4066
Passcode: panda
Grades 2-3: https://zoom.us/j/92948006226?pwd=UVZjUmVsdTNpMU1ManltVkVad1pLUT09
Meeting ID: 929 4800 6226
Passcode: panda
Grade 4-5 : https://zoom.us/j/99920069367?pwd=Szk2enl2Y2tjK2k1NHc2MDdBQ2dtdz09
Meeting ID: 999 2006 9367
Passcode: panda