Graduation After Party: Tuesday, June 14, 12:30-4:00 PM
Please RSVP to the After Party here by June 12 so we know how much food to provide!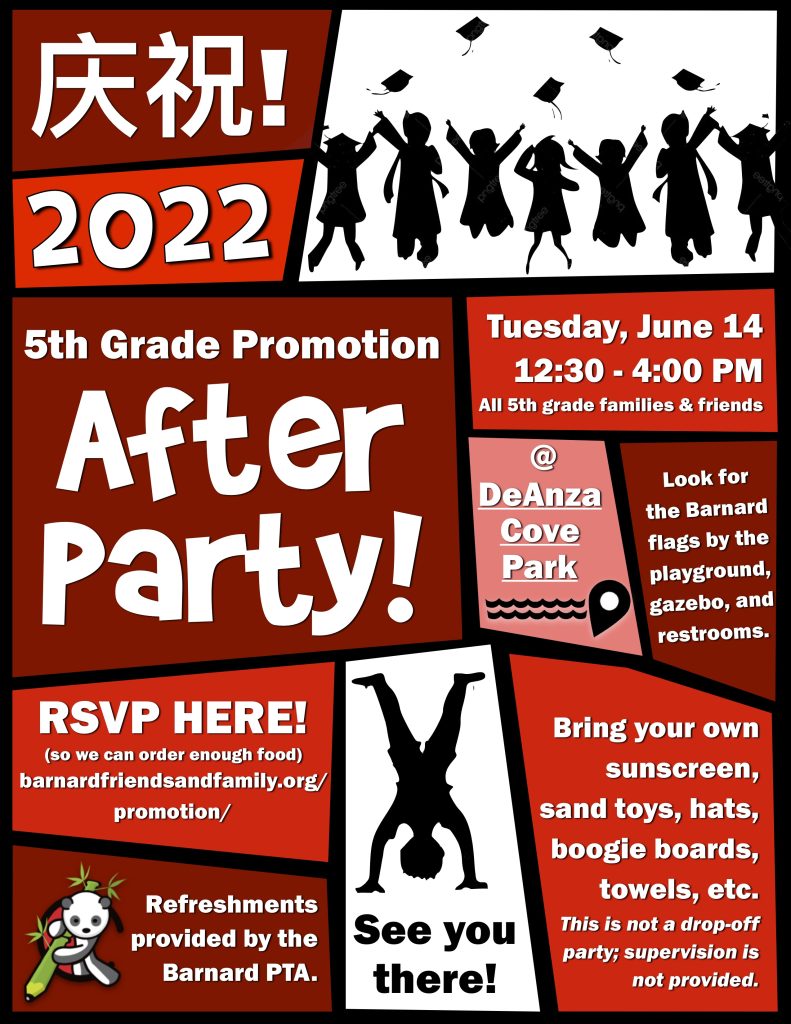 After Party Details:
Location: De Anza Cove Park. The Barnard group will be located in (or near) the gazebo by the bathrooms. Ample parking is available in the lots. Facilities include bathrooms, gazebo with picnic tables, grassy area, bay access, and playgrounds

RSVP: Please RSVP here by June 12 so we know how much food to provide!

Important! This is not a drop-off event. There will be no parental supervision other than what you provide. Swim at your own risk! 🦈

Food: Food and drinks will be provided by the PTA. Please bring water bottles and additional snacks for your family as desired. (There is no alcohol allowed at this event.)

What to bring: Bathing suits, towels, beach toys, watercrafts (kayaks, paddle boards, floaties, etc), cameras, and anything else for your and your student's enjoyment!

All graduating Barnard students and their families and friends are welcome!
Promotion Ceremony: Tuesday, June 14, 8:00 AM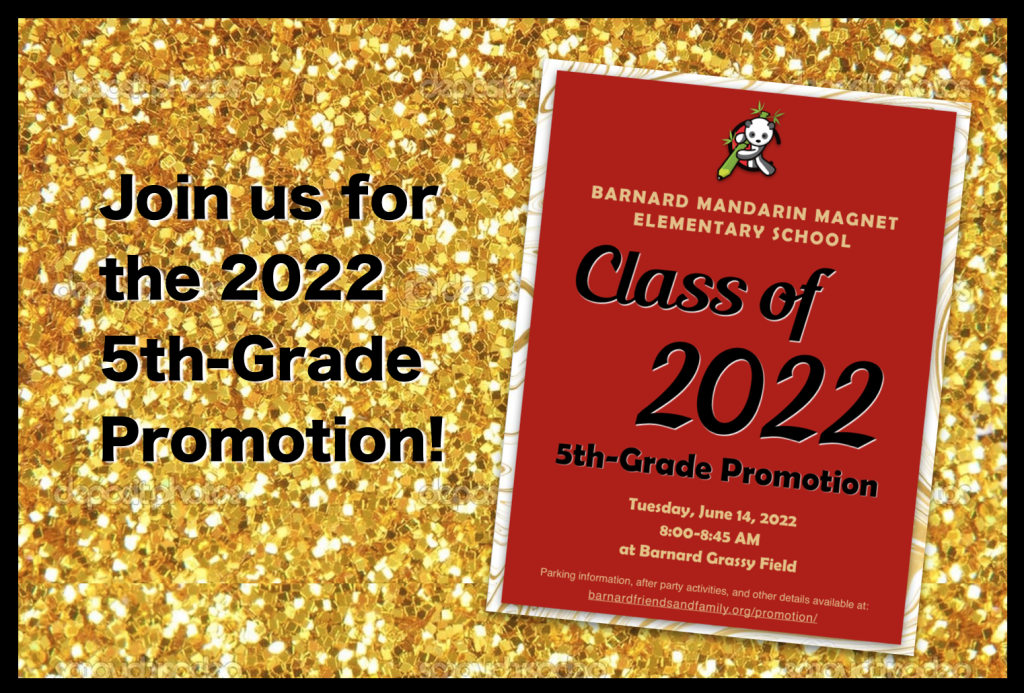 Location: Barnard Grassy Field. Gates will open at 7:30 AM.

Parking: The Barnard staff lot on Fogg Street will be available to 5th-grade parents on a first-come, first-served basis from 7:00-7:25 AM. Street parking is also available. Note: PBMS will have their graduation at Mission Bay High School from 9:30-10:30 AM and they will be parking around Barnard, too. Please be considerate of all individuals attending the various commencement events and try to limit the number of cars in your family. Kindly remember to pull forward as far as possible in available spots, and always be courteous to the residents in the General Hartman neighborhood by not blocking driveways, etc.

Student drop-off: The fifth-grade gate will be closed to students on graduation day. All fifth-graders should enter through the main Barnard gate and report to their classrooms by the normal start time (7:45 AM).

Seating: A limited number of chairs will be available for the audience on a first-come, first-served basis, and we ask that you limit your family seating to four family members in the school-provided seating (siblings included). If you would like to bring your own chairs to accommodate more than four family members, the seating will be on either side of the school-provided chairs. There will be volunteers to help direct you.

Younger sibling attendance: Barnard siblings are welcome to attend this event. Please notify Lucinda Torres in the front office by Friday, June 10 that your siblings will be attending the ceremony. Younger siblings will need to report to class at the normal start time (7:45 AM). Teachers will release the identified students to the field before the ceremony begins.

Attire: Students should wear "graduation attire" for this event. Note that caps and gowns will not be provided.

Picture opportunity: A photo opp will be available in front of the Barnard Marquee from 7:30 AM onward on Tuesday, June 14. Parents and graduates are invited to take photos before school and after the ceremony.

After the Ceremony: Dismissal will be at 12:10 PM on Tuesday, June 14. Students are welcome to return to class for the remainder of the day after the 5th-grade promotion. There will be sign-out sheets at the gate if you decide to take your child home after the promotion ceremony.

Sorry, no pets will be allowed at the 5th-grade promotion.

Reception: All families are invited to an After Party at De Anza Cove from 12:30 PM onward! See additional details below.
Yearbook-signing Party: Coming Soon