Barnard Mandarin Magnet Elementary School 2023 JOG-A-THON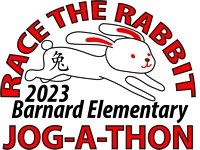 Barnard gets ready to 'RACE the RABBIT' in our quest to raise $40,000 for Barnard!
What is the Jog-A-Thon?
A student driven FUNdraising event, with an emphasis on FUN. This event will raise money to fund important programs that benefit all our students, including
– Science & Art Programs
– Field Trips
– Teacher Training
– Mandarin and English resources
– Raz Kids
– Classroom Supplies
– and MORE!
The online PLEDGESTAR site at pledgestar.com makes it easy to set up a personal fundraising page and to request pledges via email. Fundraising starts today (see fundraising details below). There are a series of fun prizes to "win" during the fundraising period for participating in fundraising efforts
The Jog-A-Thon event will be March 3rd at Barnard's sports field, where students commit to run as many laps as they can in 20 minutes!
➔ All students are invited to participate in jogging regardless of funds raised.
➔ Parents will be invited to jump in and jog along with their kid's class (see schedule below).
➔ 100% of all donations go directly to BARNARD.
Jog-A-Thon Schedule:
Fundraising: Friday, Feb 3rd – Thursday, Mar 2nd.
Jog-a-Thon Event: Friday, March 3, from 8 AM – 11:00 AM.
Running Time Schedule:
TK – 8:00 – 8:20
Kindergarten – 8:25 – 8:45
1st Grade – 8:50 – 9:10
2nd Grade – 9:15 – 9:35
3rd Grade – 9:40 – 10:00
4th Grade – 10:05 – 10:25
5th Grade – 10:30 – 10:55
HOW TO PARTICIPATE IN FUNDRAISING:
SET UP your personal PLEDGESTAR fundraising page today at pledgestar.com/barnard/ and follow the simple registration steps. It takes just minutes to set up your child's personal fundraising page to request pledges. It can even send joint sibling requests! For more detailed instructions go HERE
2. ASK (email or in-person) your family, friends and neighbors to donate. You can send them your personal Pledgestar link and you can also post your link to social media!
3. COLLECT all of your pledge money. Friends and family can donate directly on your Pledgestar page via Credit Card or you can collect Cash or Check* (made payable to *Barnard PTA). Cash and checks should be put in an envelope and given to class teachers, placed in the PTA lockbox in the front office, or turned into the Jog-A-Thon table that will be outside of the front gates during drop-off hours Monday, Feb 27 to Thursday, Mar 2.
MANY VOLUNTEERS NEEDED!
Please go VISIT THIS PAGE to sign up to help or contact us.