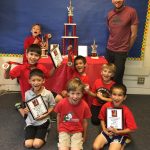 Six students spent Thanksgiving weekend at the American Open Tournament in Costa Mesa, one of the longest running chess tournaments in the USA. Third grader Daniel M. took first place after winning all five of his games – an impressive clean sweep—in the K – 3rd grade U600 section. Second grader Jaxon W. competed in the K – 12th grade U1200 section and took second place after winning four out of five games. In total, the Barnard team won four trophies from individual and team rounds, placing third overall in their respective sections.
More Barnard students competed on December 3 in the San Diego Chess Club Winter Scholastic 2017, a local tournment in Balboa Park with 100 participants. Once again, the Barnard team held their own against some of the strongest players in the county. Cumulatively, the team had six players place in the top five, and two players place in the top ten of the final standings, bringing home two individual trophies.
"I love chess, because it uses my brain to react to my opponent's move… it challenges me to make a plan," explained Jaxon, who is about to break through the US Chess Federation's "top 100 eight-year-old chess players" category and finds himself competing primarily against middle and high school students. "I feel really lucky to have a school team, because it is more fun to win a team trophy with my friends than to do it alone. Plus they give me more confidence and luck to win!"
What's next for Barnard's student chess team? Coach Martin Nilsson of Chess Minds in Motion has more training on the calendar and more competitions in the pipeline, which means a lot more fun for the players and likely a bigger trophy case for the school!
For more information on Barnard Elementary School or to find out about the District's School Choice program, visit sandiegounified.org/schools/barnard.