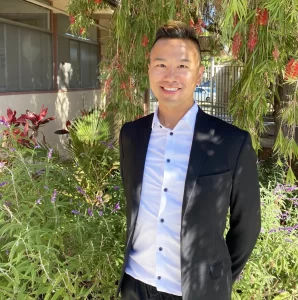 Kinglsey Chao said he was taking a leap of faith when deciding to leave his native New York to become Barnard Mandarin Magnet Elementary School's principal last August.
It is a move he does not regret. Within his first few days at the Pacific Beach campus, Chao said he realized he had hit the jackpot because he was immersed into a school with an extremely supportive environment.
"The culture of the school is filled with joy, life and love," Chao said. "There is a strong sense of collaboration among all the stakeholders."
Chao said he and his older brother are first-generation Chinese Americans because their mother is originally from Shanghai and father from Beijing, China.
He grew up and attended public schools in New York and Long Island. Kingsley said he credits key teachers from his elementary, middle and high school years for his interest and passion in music, the arts and for performance.
"Fifteen years-plus of piano lessons, countless visits to Broadway stages (and) music has shaped my perspective on life and fueled my creativity," Chao said.
Chao graduated with a Bachelor of Arts in music from Stony Brook University.
"I always knew I wanted to become an educator and inspire students the way my teachers did in me," he said.
So after graduating from Hunter College on the Upper East Side of Manhattan with a Masters of Science in childhood education Chao began his teaching career.
Fifth-grade was his first teaching assignment at The Audubon School in Washington Heights. As each year passed he sharpened his skills as a teacher and stretched his perspective by taking on multiple roles within the school.
These experiences, along with encouragement from colleagues lead Chao to return to Hunter College to pursue graduate course work and his administrative license.
Six years as an assistant principal provided Chao with multiple experiences as an instructional coach and supervising K-5 programs, including special education, in the arts, and dual immersion programs in addition to student council activities.
"Just like some of my favorite characters from literacy and the stage, I knew there was more out there," Chao said.
As Barnard Mandarin continues to grow, Chao's stated vision is to continue creating a safe and equitable learning community that allows all students to take academic risks and engages them in rigorous discussions and content area writing to foster and develop language and knowledge."
Fun facts about Kinglsey Chao
• He has hiked parts of the Great Wall of China.
• His favorite book is "Wonder" by R.J. Palacio.
• He has seen the musical "Wicked" more than 15 times.
• Favorite quote: "We keep moving forward, opening up new doors and doing new things … and curiosity keeps leading us down new paths." — Walt Disney